All our Destruction services come free when you dispose of any IT items with us.
Our Data Management processes are in accordance with our ISO 27001 UKAS certification; a globally recognised standard which ensures that all our safeguarding and destruction practices have been rigorously audited by external examination bodies.
Fleet Management
​
We have access to a wide range of vehicles which are all equipped with 500-1000 kg tail lifts allowing us to effortlessly exchange our fleet of bin/cages/stillages and collect any bulky objects such as MFP Printers, Server Cabinets and photocopiers.
CCTV
​
Each van is fitted with 4 point CCTV monitoring systems:
​
1 x Outer Front Facing Camera
1 x Outer Rear Facing Camera
1 x Inner Cab Camera
1 x Inner Box Camera
​
which enables us to carefully monitor assets throughout the entirety of the collection process giving customers complete peace-of-mind that their sensitive assets are in safe hands.
​
GPS Tracking
​
Our fleet are fitted with Live GPS TomTom Webfleet Tracking systems which monitor the drivers performance and enables both staff and customers to simultaneously track where the designated driver is heading at all times.
​
Collection Team
​
All our collection members are fully vetted prior to appointment and carry full enhanced DBS checks and Photo ID ​per each collection. In some instances we can equip team members with body cameras where highly sensitive assets need to be safeguarded whilst being loaded onto our fleet.
Our Destruction Options
SHREDDING
---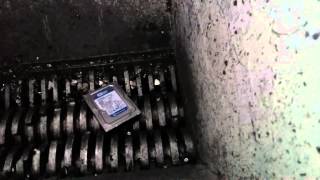 Our 30kw Twin Shaft Shredder can obliterate any storage medium i.e. hard drives, data tapes, CD's, Floppy disks etc into tiny pieces making the process are retrieving information virtually impossible. As the awareness of data protection has grown most customers now see this method of shredding as the essential way to gurantee their data is completely irrevesibly destroyed.
---
CRUSHING
---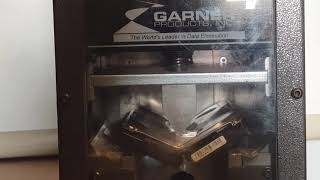 Crushing is one of our "On-site" options wherein the solid steel blade compresses the hard drive splitting it into two parts and rendering the platter completely destroyed. This is a fast and efficient way to ensure your sensitive devices are destroyed before removal from site. As this is only the first layer solution to destroying the hard drive we then shred the crushed device at our facility using our 30kw Twin Shaft Shredder.
---
DEGAUSSING
---
We recommend degaussing as one of our "first layer" on-site options whereby the process involves running the storage medium through our machine which distorts the magnetic field of the device scrabbling information into random patterns making the data unreadable. Ideally suited for hard drives, degaussing can also be used on certain Data Tapes.
---
WIPING
---
Our non-physical destruction method involves wiping hard drives to INFOSEC standard 5 using CESG approved Software. This is deemed the "Gold standard" for those who wish to re-use hard drives as the software achieves a 5 pass cleanse which is seen to be a military grade standard.
---
---